Campaigns
https://citizensadvicesedgemoor.org.uk/wp-content/uploads/2022/11/LEAFLET-ONLINE-MARKETPLACES-1.pdf
https://citizensadvicesedgemoor.org.uk/wp-content/uploads/2022/11/POSTER-1-2.pdf
https://citizensadvicesedgemoor.org.uk/wp-content/uploads/2022/11/POSTER-2-2.pdf
https://citizensadvicesedgemoor.org.uk/wp-content/uploads/2022/11/POSTER-3-2.pdf
https://citizensadvicesedgemoor.org.uk/wp-content/uploads/2022/11/POSTER-4-2.pdf
https://citizensadvicesedgemoor.org.uk/wp-content/uploads/2022/11/POSTER-5-2.pdf
https://citizensadvicesedgemoor.org.uk/wp-content/uploads/2022/11/POSTER-6-2.pdf
SCAMS AWARENESS
Citizens Advice Sedgemoor again supports the National Scams Awareness campaign and continues to campaign for improvements to the enforcement of the law relating to scams, and to the Action Fraud process. For more details see Twitter: SedgemoorCAB_SP and #Scamaware
https://www.citizensadvice.org.uk/about-us/our-work/our-campaigns/awareness-raising-campaigns/scams-awareness-campaign-2022/
https://www.citizensadvice.org.uk/Global/CitizensAdvice/campaigns/SA22/Be%20Scam%20Aware%20Poster%201.pdf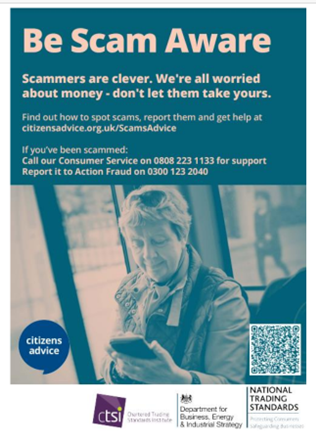 CAMPAIGNS
We use our clients' experience, stories and evidence to research and campaign for positive change locally and nationally.
Research and Campaigns is one of the twin aims of Citizens Advice Sedgemoor, as it is throughout the Citizens Advice service.
As a service we have a huge amount of insight, information and evidence about the problems that our clients face.
The work of Research and Campaigns is to improve the policies and practices that affect people's lives.
Sometimes our Advisers come away after dealing with a case with the sense that "It just isn't fair !" and "Somebody has got to do something about it". The role of the Research and Campaigns is to identify such problems and do something.
This year we are working on two main projects.
One is within the Rural Issues Group of bureaus. It began when people identified Transport as a main concern for rural people. It led to publication of a Report "Ticket to Ride". And we are now campaigning to raise awareness of the problems and encourage solutions.
The other is a local project that began when we realized that many people have a lot of difficulty in dealing with Official Correspondence. We carried out some research and are now publishing a report "Read All About It."
We are also working on
Migrant Workers – particularly in relation to the Hinkley Point development
Scams Awareness Month
Universal Credits.